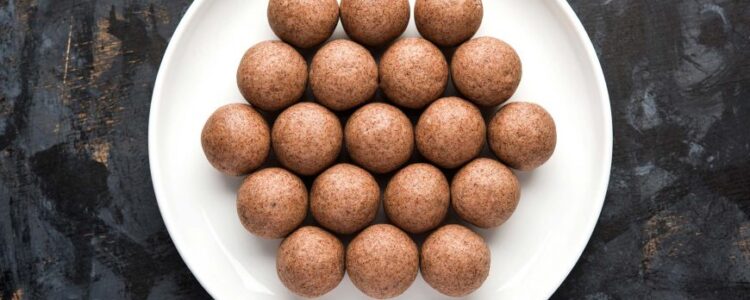 Sweet Ragi Ladoos are nutritious and delightful treats made from popped ragi flour, jaggery, and ghee. They are perfect for satisfying your sweet cravings guilt-free.
2 tablespoons ghee (clarified butter)
1/4 teaspoon cardamom powder
2 tablespoons chopped nuts (almonds, cashews)
2 tablespoons warm milk (as needed)
Procedure
In a pan, heat ghee over low heat, add grated jaggery, and melt it until it forms a syrup-like consistency.
Add popped ragi flour and cardamom powder. Mix well and roast on low flame for 3-4 minutes.
Add chopped nuts and warm milk to bind the mixture. Mix until it comes together like a dough.
Allow the mixture to cool slightly. Then, take small portions and shape them into ladoos. Let them cool completely before storing.